---
Sheikh Imran N. Hosein is now
on Malaysian Lecture Tour 1998
---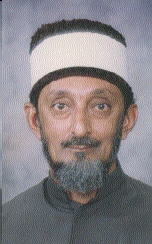 Imran N. Hosein was born in Trinidad, West Indies, in 1942. He studied Islam under the guidance of the distinguished Islamic scholar and Sufi Shaikh, Maulana Dr. Muhammad Fadlur Rahman Ansari (Al-Qaderi), at the Aleemiyah Institute of Islamic Studies, Karachi, Pakistan. He also did post-graduate studies in Philosophy at Karachi University, and in International Relations at the University of the West Indies, Trinidad, and the Graduate Institute of International Studies, Geneva, Switzerland.
A former Foreign Service Officer in the Trinidad and Tobago Foreign Service, he resigned his job in 1985 to devote his life to the mission of Islam. He was appointed Principal of the Aleemiyah Institute of Islamic Studies, Pakistan, a position he held until 1988. In 1989 he migrated to USA and was appointed Director of the Institute for Islamic Education and Research in Miami, Florida. Since 1991 he has worked in New York as Director of Islamic Studies for the Joint Committee of Muslim Organizations of Greater New York. This included the Islamic Community of the United Nations at the UN headquarters in Manhattan, NY, where he has conducted the Friday congregational prayers once monthly for six years. In December 1996 he was appointed by Dr. Israr Ahmad as Director of Da'wah for Tanzeem-e-Islami of North America.
He has traveled extensively in the cause of Islam visiting South East Asia, for example, seven times since 1988 on Islamic lecture tours. He has recently completed a full year of service to the cause of Islam in the Caribbean islands of Grenada, Tobago and Trinidad.
As an author in Comparative Religion he has produced a seminal work on 'Islam and Buddhism in the Modern World', published in Pakistan in 1972. His works on Islam and International Relations include 'Diplomacy in Islam - An Analysis of the Treaty of Hudaibiyah'. A collection of his writings was published in Singapore in 1991 under the title 'Islam and the Changing World Order'.
His most recent works, published in 1997 in the Ansari Memorial Series (which commemorate the 25th. death anniversary of Dr.Ansari), are :- 'The Importance of the Prohibition of Riba in Islam', 'The Prohibition of Riba in the Qur'an and Sunnah', 'The Religion of Abraham and the State of Israel - A View from the Qur'an', 'The Caliphate, the Hejaz and the Saudi-Wahhabi Nation-State', and 'One Jama'at One Ameer - The Organization of a Muslim Community in the Age of Fitan'. He hopes to complete two more books in the Ansari Memorial Series on the topics:- 'Suratul Kahf and the Modern Age', and 'An Islamic View of the Return of Jesus'.
Click Here
for his Lectures Schedule

For latest update, please contact 019-2777433 (Iskandar/Anita)
For more information, E-Mail to :umma@tm.net.my or Fax us at: 603-7195591
---
[WHAT'S NEW] [SERVICES] [NEWSFLASH][KIOSK]
---
Last Updated on: April 17, 1998
Copyright © 1997 Habib Kiram webmaster@irif.com